The jeep was a versatile vehicle which aided mobility in a Second World War campaign which was notorious for poor vehicle going. With high clearance and four-wheel drive, the jeep was able to go places where other vehicles were mired in the Italian muck. The Canadians in Italy never formed a permanent jeep-equipped unit for supplying troops at the frontlines, but an ad hoc unit was established for use in the Hitler Line that was disbanded during the pursuit, and reincarnated during the Gothic Line attack. The No. 1 Canadian Corps Jeep Platoon had thirty jeeps and around forty-five soldiers, which was attached directly to the battalion and company headquarters of the infantry. Arnold Warren wrote his RCASC history that the sections identified with the units they served whilst hauling anti-tank guns, ammunition, and hot rations. Innovation was no stranger to the group, who placed wet sandbags on the floors of their jeeps to protect the driver from mines.
Personnel of the Loyal Edmonton Regiment filling a jeep with gasoline, San Lorenzo in Monte, Italy, ca. 22 September 1944. Canada. Dept. of National Defence / Library and Archives Canada / PA-177531
An excerpt from the war diary after the breaking of the Gothic Line shows that the group saw no shortage of incoming fire:
"14 Sep 44
...One L/Cpl having to dive for a ditch receives a cut on forehead from heel of boot of a man trying to beat him to it. Our DR, Pte Sage A., never before under shell fire, leaves his MC in a hurry, dives into ditch to save himself and finds two other men there. He turns to say it rather hot, but it turns out they are both dead; presto, leaves for more pleasant company. One man finds it very comfortable to get jeep moving slowly ahead and driving it from the ditch on hands and knees."
Pictures at Library and Archives Canada show that the jeep was a prevalent vehicle in many organizations.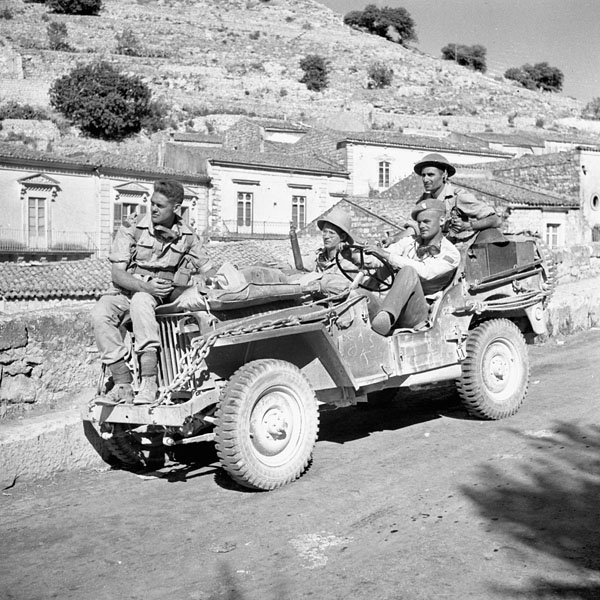 Canadian war correspondents in a jeep, Modica, Italy, 13 July 1943. (L-R): Peter Stursberg, Canadian Broadcasting Corporation; Ross Munro, Canadian Press; Captain Dave MacLellan, Public Relations Officer; Lieutenant Al Fraser, Canadian Army Film and Photo Unit. Credit: Capt. Frank Royal / Canada. Dept. of National Defence / Library and Archives Canada / PA-204808
The medical corps was another formation which used the manoeuverability of the vehicle offroad to extract casualties under fire.
A jeep ambulance of the Royal Canadian Army Medical Corps (R.C.A.M.C.) bringing in two wounded Canadian soldiers on the Moro River front south of San Leonardo di Ortona, Italy, 10 December 1943. Credit: Lieut. Frederick G. Whitcombe / Canada. Dept. of National Defence / Library and Archives Canada / PA-180097